In the same way that Allan Gardens was Toronto's first official park, so shall this be my first official blog post! The Allan Gardens Horticultural Pavilion is a lovely 10-acre park located between Sherbourne and Jarvis Streets, and Carlton and Gerrard Streets in Toronto, Ontario, and it is here I do much of my best creative thinking. The park is home to six greenhouses filled with exotic plants, and flower displays that change with the seasons. George William Allan, the eleventh mayor of Toronto, donated the land to the city in 1857 on the condition that the grounds be completely accessible to the public and free of any fee. Today, Allan Gardens is still open 365 days a year from 10 am until 5 pm and free of charge.
Can you imagine that at its peak, 125 years ago, Allan Gardens was one of the hottest venues in Toronto? Clarence Duff, a lifelong Torontonian wrote a book at age 90, including his own sketches, about his home city. He paints for us a colourful picture of what the Gardens were like at this time:
"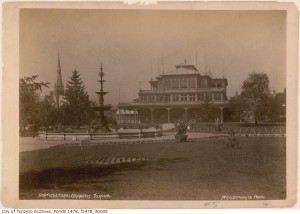 The large glass pavilion known as the Palm House, built in 1879, was used for concerts, balls and promenades, conventions and flower shows… Its daily promenades soon gained a reputation for being one of Toronto's most notable events. It was here that the nannies and their charges from all the wealthy homes on Jarvis Street and surrounding neighbourhoods met for their daily gossip. Word spread and the promenade became quite a show. All the girls would be dressed up in their best; bonnets would be colourful, gowns crisp and pretty and perambulators bedecked with umbrellas and all the other trimmings to show them at their fanciful best. Carriages were elegant and often elaborate, made with wicker, leather and cloth. Policemen in the area would make a point of catching the parade of neatly dressed nursemaids with their charges and more than one romance started there."
Sadly, in 1902, the event hall and pavilion burned to the ground, as many things have in Toronto. *knock on wood (luckily everything here was built of it, and therein lies the problem) The glass structure that stands on site today replaced it and was completed in 1909. Although it is isn't the hottest party venue in the city anymore, it provides a beautiful escape, a stunning backrground & subject for art, and a place to get back to our roots.
https://bysummerleigh.com/wp-content/uploads/2015/03/portraitseries008unedited.jpg
935
1200
summerleigh
https://bysummerleigh.com/wp-content/uploads/2015/02/logo-web-300x88.jpg
summerleigh
2015-03-02 03:23:47
2015-07-02 14:46:54
Allan Gardens, the city's hottest hangout?