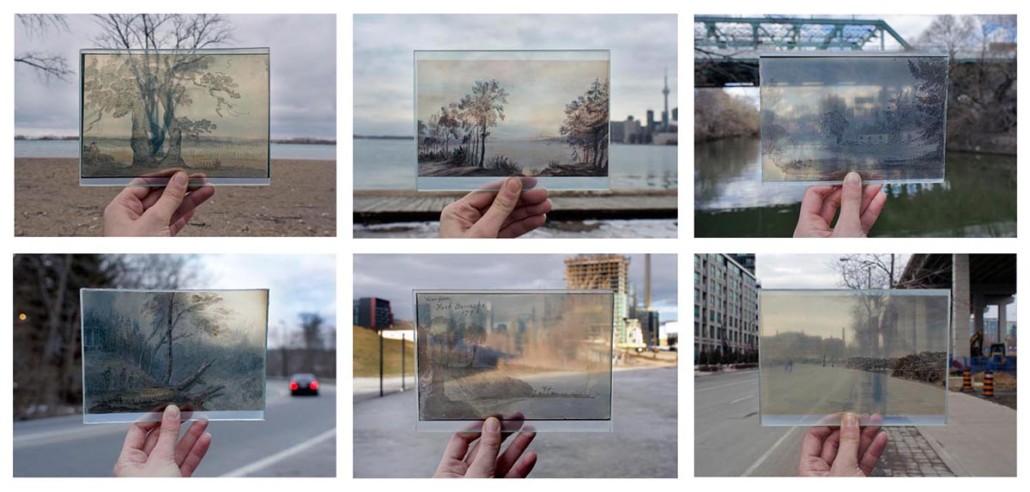 For over two years I have been attempting to bring Toronto back to the future with my series, The Past is Never Far. The series explores a then and now history of Toronto in a way never seen before. Artists have presented past and present side by side, we've seen them photoshop images together, and take photographs of old photos, but never have we looked directly through the past to what exists there today.
The majority of pieces in the series focus on the work of iconic Toronto photographer William James Sr.  James Sr's collection in the Toronto Archives boasts over 10,000 images from the early 1900s, over half of which were originally shot on glass plate negatives. After recreating the plates into glass plate positives, I bring them back to the location to shoot through to what exists there today. The series also features and was inspired by the work of Lady Simcoe, wife of our city's founder.
By focusing on the glass plate with a shallow depth of field, I force viewers back in time to a familiar place.
For those interested, this is the tale of how the series came to be:
In almost every term I spent at Ryerson University, I attempted to get into the class Toronto: From Wilderness to Metropolis and it wasn't until my very last one that I finally made it in. In our first lecture, Dr. Ross Fair began in the Ice Age working his way through time, discussing land formation and native migration patterns in the area and ending that class with the arrival of the Simcoes to tkaronto in the 1790s. Tkaronto is the native word we believe Toronto originated from. It was once thought the translation was, "a gathering place" but new evidence suggests it is actually, "where trees stand in the water."
After that lecture I walked out into the city and saw it in a way I never had before. Walking up the incline towards Bloor from school I thought of a time when the edge of Lake Ontario extended all the way towards Casa Loma, which would have left me then, underwater. That afternoon on my bike to the rowing club my mind raced with thoughts of Toronto when it was said to be home of the nation's healthiest sands. While coaching that evening, a massive tree branch drifted into our channel carrying with it a mess of garbage. Someone had bumped into it (as when you row, you row backwards) and so I worked my way over in the coach boat to push their shell away from the
mess. The garbage in the heap included chip bags, a ton of disposable wipes that hadn't disintegrated, cans, and even a needle. Once my rec rower was on their way I let out a disappointed sigh while my mind drifted back to a Toronto where the water was untouched. Luckily for us at the club, our channel is home to some of the cleanest water in the city. While photographing for the Portlands Energy Center, which sits across the channel from our club, I learned the water they pull from the lake to cool the machinery is double filtered, used to cool, filtered again, and released back into the channel where Baysiders row, cleaner than ever (until debris from the lake blows in).
My jaw dropped when the next lecture began with a slide of Lady Simcoe's stunning watercolour of Toronto's harbour. She had painted the image from one of my favourite spots in the city and one I pass on my regular bike to the club. When I saw that 220 year old watercolour and immediately recognized where it was, it made me want to seek out the locations of the other images Elizabeth painted while here. That entire second lecture focused on the Simcoes, and to my surprise more-so even on Lady Simcoe. By avidly documenting the assignment her husband was given by the king, Elizabeth Simcoe solidified her place in history beside Lt. Gov. John Graves. Other things learned in that lecture were that, "Castle Frank" known these days as a subway stop (in my neighbourhood) was named after the Simcoes' estate, which had once sat there. 
Elizabeth used to ride her horse from Castle Frank south along the Don River, and out onto the peninsula we now know as Toronto Island. On my next bike to the rowing club I laughed as I hit Cherry Street. I realized my bike route would have followed Elizabeth's favourite route on horseback quite closely. When I thought of all the time both Lady Simcoe and I had spent rowing around and exploring our waterfront, I decided it was something I wanted to explore further and made it the topic of my photographic thesis. It was a risky move as I had already been working on another topic for the entire first half of the year, but it was the right one. 
I narrowed Elizabeth's work down to six pieces that I could research and pinpoint the locations of and was able to do so with the help of Dr. Fair,  and Derek Heyes', Historical Atlas of Toronto (a must have for any Toronto History lover!). Elizabeth's diary was an excellent source along with a copy of, Arrivals, Stories from the History of Ontario I found in the basement of my building which featured a chapter about the Simcoe's York, and was funnily enough even signed by the author.
The pieces I chose to feature of Elizabeth's are kept safe by the Archives of Ontario and the Toronto Reference Library. There were two necessary steps to make before I began shooting. I had to pinpoint the 6 locations on a modern day map, and I had to ask permission to use the images from the AoO. Once images are free of any copyright, you may use them at your leisure, however the AoO still asks that you notify them when using images for anything other than personal use and for what purpose you are using them. Copyright in Canada expires 50 years after publication or 75 years after creation; as these images are 220 years old, I was in the clear. After sending out an email with all the item numbers of the images being requested for use, I scanned in a map from Hayes' atlas from around the 1790s as commissioned by John Graves Simcoe.
Once the 6 watercolour pieces were mapped out, it was evident they all sat by water's edge. From here I worked through the atlas to determine how the land around my pinpoints changed until I had all 6 plotted on a modern map. Dr. Fair's help during this portion of the process was critical and much appreciated.
During one of our routine photographic thesis check ins with our class, one of my peers asked why I was only featuring works of Elizabeth's near water. He said he would be curious to see more of how the city core had changed. My first instinct was to answer because of the draw I feel to our water front. By that point I had without a doubt spent more of my career as a student at the rowing club than I had at the school. I was there mornings and evenings and in the summers I managed the club leaving me there for around 12-15 hours a day, 6 days a week. But as I worked through the inventory of Elizabeth's images I had seen in my mind, I realized she hardly had any works that didn't feature the water. Her draw to our harbour seemed then as undeniable as my own, and the feeling that I was on the right track swept over.
My answer to him wound up being along the lines of, "Because not only did myself and Elizabeth spend countless hours at the waterfront, but really, there was nothing but dense woods at the city's core around that time and dense woods just aren't as much fun to paint with watercolour as a sunset over a harbour." The forest here was so dense in fact, that Elizabeth used to have dinner parties up on the hill where Castle Frank sits and would schedule forest fires to burn out empty lots as practical entertainment. This is where I don't feel so bad that in Arrivals, Stories from the History of Ontario, John Bentley Mays says of Lady Simcoe that, "She is a diarist who is observant, clear, specific, unoriginal-curious, but not astonished; engaged, but never losing a sense of herself in the wilderness, which God created not to amuse her or leave her wonder-struck, but to be organized." In that respect I believe Mays is absolutely correct.
I began biking around the city on a regular basis to visit the locations I had mapped, wondering how I was going to produce a then and now series in a way that had never been done before. My advisors and peers encouraged me to attempt something different and the answer finally came to me while working in historical processes class. We had been working with wet plate collodion in the dark rooms and instead of using film negatives, the class was printing digital negatives to use. These transparencies in combination with the process of wet plate collodion (which uses a combination of glass with a chemical emulsion and a black background to create a positive image) gave me the idea to create glass plates of the watercolours which I could then shoot through to what exists in that location today. What excited me most about the idea is that I had come up with a technique to represent past and present in one frame, in one, straight, unphotoshopped image. 
I always have the most fun with the experimentation period of the creative process. I played with as many transparent materials I could find, I wet them, I bent them, I shone different kinds of lights on them, and I even experimented with
printing directly on glass, but I finally found the ideal material at a family print shop. It was a transparent film with the
perfect layer of emulsion, not too clear, not too milky; unfortunately the brand has since discontinued the product and the
shop has since been closed, the owner retired. Luckily for me, I know the importance of maintaining a good relationship with your printer and so she still prints from home for a select few lucky customers and sells what's left of her massive roll to me.
Once I had created the glass plates, I began to explore the locations Simcoe documented just over two centuries before myself. In revisiting these sites, I've developed an intimate relationship with them, noticing nuances of the past that still remain a century later like the muddiness at Fort York, how the ground has eroded or been cut away at Casa Loma, how our rivers have been straightened or buried, how our farm land disappears while populations and financial districts grow
exponentially.  While producing this series, in creating a small environmental history of Toronto, I have come to appreciate the city in a way I never thought possible; it's my aim to continue with it in hopes of sharing that appreciation. The spaces we occupy everyday are truly just an extension of ourselves, and in realizing our responsibility to them it occurred to me that the past is never far.
https://bysummerleigh.com/wp-content/uploads/2015/12/ESCollection1.jpg
573
1200
summerleigh
https://bysummerleigh.com/wp-content/uploads/2015/02/logo-web-300x88.jpg
summerleigh
2015-12-08 00:08:18
2015-12-12 15:26:28
The Past is Never Far: Toronto, the Series' Inspiration